Zero-Length Glass Viewports
Larson Electronic Glass zero-length glass viewports are supplied with fully annealed, commercial grade, optical quality 7056 glass windows in nine standard sizes from ¾" through 6". Moderate cost combined with good optical and physical properties make them the preferred choice for a wide variety of applications.
Our zero length viewports are offered with CF type flanges for use below 1x10-11 Torr, and in ISO type o-ring seal flanges for use in intermediate vacuum ranges. Window surfaces offer a minimum of distortion and provide maximum light transmis­sion suitable for most applications. Custom viewports are also available.
Features:
Zero-length offers greater distortion-free view area
Zero-length viewports magnetic Kovar® content only 1% to 3%
Kovar® offers superior mechanical strength
>90% Transmission from 360nm to 2300nm
Optional AR Coatings available
CF mount bakeable to 250°C, 10°C/Min gradient , 200°C maximum with AR Coating
ISO Kwik-Flange® and Large-Flange® bakeable to 200°C, 10°C/Min gradient
Can be used with leaded glass shields
Request a quote today on the zero length glass viewports you need, or contact Larson Electronic Glass for assistance.
Larson Electronic Glass offers "Zero-Length Glass Viewports" available in 9 standard sizes from 3/4 inch through 6 inch with a variety of flange options. Dimensions are in inches unless otherwise noted.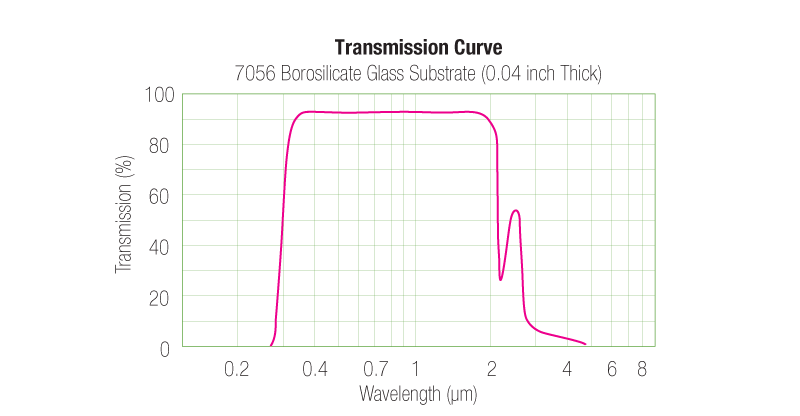 Image
Zero-Length Glass Viewports
Flange
View diameter (V)
Height (H)
Glass thickness (T)
Model Number
Part Number
Price
3/4" Zero-Length Glass Viewport
1.33" CF
.63"
.29"
.070"

VP-075-F1

111102

$140

Purchase at Accu-Glass Products, Inc.

VPG-0.6-133
112401
3/4" Zero-Length Glass Viewport
NW16
.63"
.36"
.070"

VP-075-K1

111104

$145

Purchase at Accu-Glass Products, Inc.

VPG-0.6B-K16
112444
3/4" Zero-Length Viewport
NW25
.63"
.21"
.070"

VP-075-K2

111105

$145

Purchase at Accu-Glass Products, Inc.

VPG-0.6-K25
112524
3/4" Zero-Length Viewport
NW40
.63"
.50"
.070"

VP-075-K4

111106

$150

Purchase at Accu-Glass Products, Inc.

VPG-0.6-K40
112539
1" Zero-Length Glass Viewport
2.75" CF
.90"
.50"
.085"

VP-100-F2

111110

$140

Purchase at Accu-Glass Products, Inc.

VPG-0.9-275
112405
1" Zero-Length Glass Viewport
NW25
.90"
.51"
.085"

VP-100-K2

111115

$140

Purchase at Accu-Glass Products, Inc.

VPG-0.9B-K25
112445
1" Zero-Length Glass Viewport
NW40
.90"
.45"
.085"

VP-100-K4

111116

$150

Purchase at Accu-Glass Products, Inc.

VPG-0.9B-K40
112446
1-1/2" Zero-Length Glass Viewport
2.75" CF
1.40"
.50"
.105"

VP-150-F2

111162

$145

Purchase at Accu-Glass Products, Inc.

VPG-1.4-275
112402
1-1/2" Zero-Length Viewport
3.37" CF
1.40"
.63"
.105"

VP-150-F3

111163

$165

Purchase at Accu-Glass Products, Inc.

VPG-1.4-338
112406
1-1/2" Zero-Length Glass Viewport
NW50
1.40"
.50"
.105"

VP-150-K5

111166

$155

Purchase at Accu-Glass Products, Inc.

VPG-1.4B-K50
112447
1-1/2" Zero-Length Glass Viewport
NW63
1.40"
.73"
.105"

VP-150-L6

111167

$265

Purchase at Accu-Glass Products, Inc.

VPG-1.4-L63
112541
1-1/2" Zero-Length Glass Viewport
NW80
1.40"
.73"
.105"

VP-150-L8

111168

$275

Purchase at Accu-Glass Products, Inc.

VPG-1.4-L80
112448
2" Zero-Length Glass Viewport
3.37" CF
1.90"
.63"
.125"

VP-200-F3

111192

$180

Purchase at Accu-Glass Products, Inc.

VPG-1.9-338
112411
2" Zero-Length Glass Viewport
NW63
1.90"
.73"
.125"

VP-200-L6

111195

$275

Purchase at Accu-Glass Products, Inc.

VPG‐1.9‐L63
112414
2" Zero-Length Glass Viewport
NW80
1.90"
.73"
.125"

VP-200-L8

111196

$290

Purchase at Accu-Glass Products, Inc.

VPG‐1.9‐L80
112449
2-1/2" Zero-Length Glass Viewport
4.5" CF
2.69"
.68"
.170"

VP-250-F4

111212

$315

Purchase at Accu-Glass Products, Inc.

VPG-2.7-450
112403
2-1/2" Zero-Length Glass Viewport
4.62" CF
2.69"
.75"
.170"

VP-250-F5

111213

$425

Purchase at Accu-Glass Products, Inc.

VPG-2.7-462
112408
3" Zero-Length Glass Viewport
6" CF
2.69"
.78"
.170"

VP-300-F6

111233

$475

Purchase at Accu-Glass Products, Inc.

VPG-2.7-600
112409
3" Zero-Length Glass Viewport
NW100
2.69"
.73"
.170"

VP-300-L10

111235

$475

Purchase at Accu-Glass Products, Inc.

VPG-2.7-L100
112451
4" Zero-Length Glass Viewport
6" CF
3.88"
.78"
.200"

VP-400-F6

111272

$500

Purchase at Accu-Glass Products, Inc.

VPG-3.8-600
112404