Sapphire Viewports
Larson Electronic Glass sapphire windows allow the window to be mounted as close to the chamber as reasonably possible and allow the clearest access from the window surface on the air side. These windows are silver-brazed to Kovar® sleeves. They are mounted in stainless steel tube-weld adapters and CF type flanges for use below 1x10-11, or ISO type Kwik-Flange®. Optional flange weldments are available as special order.
Sapphire Window surfaces which are extremely hard and scratch resistant offer a minimum of distortion and provide maximum light transmission suitable for most applications. UV grade viewports have a 90° crystal orientation normal to the optical axis.
Features:
Offers greater distortion-free view area
¾" and 1" are UV grade.
Magnetic Kovar® content only 1% to 3%
>80% Transmission from 250nm (UV Grade) to 4000nm
CF and Weld mount bakeable to 450°C, 25°C/Min gradient
Kwik-Flange® bakeable to 200°C
Larson Electronic Glass offers "Sapphire Viewports" available in 4 standard sizes from 3/4 inch through 2 inch with a variety of flange options. Dimensions are in inches unless otherwise noted.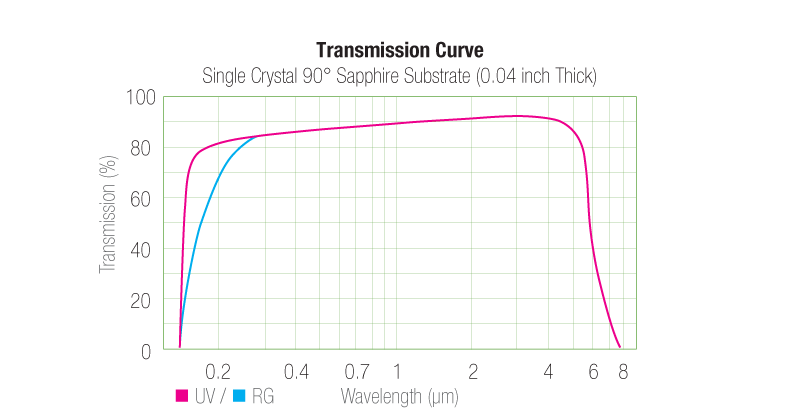 Image
Sapphire Viewports
Flange
View diameter (V)
Metal end
Height (H)
Glass thickness (T)
Model Number
Part Number
Price
3/4" Sapphire Viewport
-
.69
1-1/2" Weld Adaptor
.44"
.080"

VSZ-075-T

131101

$295
3/4" Sapphire Viewport
2.75" CF
.69
-
.50"
.080"

VSZ-075-F2

131103

$390
3/4" Sapphire Viewport
NW40
.69
-
.56"
.080"

VSZ-075-K4

131106

$390
1" Sapphire Viewport
-
.94"
1-1/2" Weld Adaptor
.44"
.080"

VSZ-100-T

131121

$335
1" Sapphire Viewport
2.75" CF
.94"
-
.50"
.080"

VSZ-100-F2

131122

$425

Purchase at Accu-Glass Products, Inc.

VPS‐1.0‐275
112416
1" Sapphire Viewport
NW40
.94"
-
.52"
.080"

VSZ-100-K4

131124

$425

Purchase at Accu-Glass Products, Inc.

VPS-1-K40
112419
1-1/2" Sapphire Viewport
2.75" CF
1.44"
-
.50"
.080"

VSZ-150-F2

131162

$843

Purchase at Accu-Glass Products, Inc.

VPS-1.5-275
112725
1-1/2" Sapphire Viewport
4.5" CF
1.44"
-
.68"
.080"

VSZ-150-F4

131164

$906

Purchase at Accu-Glass Products, Inc.

VPS‐1.5‐450
112417
2" Sapphire Viewport
4.5" CF
1.94"
-
.68"
.094"

VSZ-200-F4

131193

$920

Purchase at Accu-Glass Products, Inc.

VPS‐2.0‐450
112466
5/8" Sapphire Viewport
1.33" CF
.59"
-
.50"
.062"

VS-062-F1

132092

$345

Purchase at Accu-Glass Products, Inc.

VPS‐0.6‐133
112415
5/8" Sapphire Viewport
NW16
.59"
-
.50"
.062"

VS-062-K1

132094

$345

Purchase at Accu-Glass Products, Inc.

VPS-.6-K16
112418